US Owners Get Their Seized Defenders Back
Written by: Steve Hoare
Published: 03 June 2015
Eleven months after they were seized, scores of 'arrested' Land Rover Defenders are being returned to their owners in the USA, thanks to lawyer Will Hedrick: Defender of Defenders.
As of June 1, a settlement has been made between the USA and 25 Defender owners who had their vehicles seized and 'arrested' by the Department of Homeland Security last autumn. All the vehicles will be returned to the owners within 30 days at no cost to the owners. This is very welcome news to the Land Rover community, especially in the USA, and is in addition to the 15 vehicles returned previously.
The owners' lawyer is Will Hedrick (aka: Defender of Defenders) who is also a fellow Land Rover enthusiast and Defender owner. Will was so dedicated to the cause that he gave up his regular law practice to work full time on the Defender case, free of charge. 'The response was overwhelming,' said Hedrick, 'I thought maybe four or five owners would respond to my offer, but it turned out that all of them did!'
For his actions and dedication, Will is now considered a legend within the Land Rover community. Not only did Will facilitate getting the Defenders back to their owners but it only took ten months to get a resolution to a Federal case. Almost a record!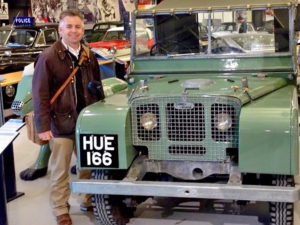 The whole case was based upon the US Government claiming that the Defenders imported were younger than the 25-year exemption and as such did not meet US DOT and EPA regulations. What the Government failed to investigate was the total make up of the VIN/chassis number. They only referenced the numeric vehicle identifier, which vehicle manufacturers recycle on a regular basis based upon production volumes.
The differences are typically the prefix and suffix alphanumeric codes, so this mis-information decoded the Defenders as being post-2000 models when in fact they were actually more than 25 years old.
A celebration party is currently being organized to get all the owners and their Defenders with Will (Defender of Defenders) as guest of honour.
Based upon initial feedback on various Land Rover forums it is doubtful that Will Hedrick will have to pay for a drink ever again...
Will's reaction to all this is extremely humble: 'All I would like is a photograph with each owner and his/her Defender'.
Well done Will!
Originally published here: https://www.lro.com/blog/news/land-rover/1506/us-owners-get-their-seized-defenders-back